At any animal shelter, you would find cats, dogs, turtles, and horses. However, among the animals at the PSPCA on East Erie Avenue, there are children reading to cats. This particular shelter is home to the Cat Tales Program. Started in the summer 0f 2015, the Cat Tales Program offers a safe place for children to practice their reading abilities.
Literacy is necessary for success, but learning to read is stressful for children. Cat Tales seeks to diminish a child's anxiety by using cats as non-judgmental reading partners. Outreach and Human Education Manager, Mandy Hood says, "When kids show up they are nervous and a little shy." Hood goes on to say that, "[kids] come out as totally different people. They are more confident and are having a nice time reading."
Since Olivia Fiorentino, a fifth-grader at Saint Cecilia's School started the program she reports feeling a newfound confidence when asked to read aloud. An avid fan of Charlie and the Chocolate Factory, Olivia finds cats to be the perfect listeners because of their playful and judgment-free demeanors.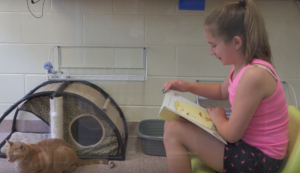 While the impacts on children are clear, they are not the only ones receiving something from this partnership. When cats are taken off the streets and placed in shelters it is difficult to find homes for them if they lack experience with humans. As the kids are reading, the cats are socializing. The Cat Tales Program allows the animals to approach the participants, rather than the other way around. As a result, the cats are learning to interact in a friendly manner while creating a comfortable environment for their human counterparts.
To encourage children to read as well as give back to their communities, the Cat Tales Program offers community service credit. Allison Decaro stumbled upon the program when she was searching for volunteer opportunities for seven-year-old son, Alex. "My son loves animals." says Decaro, "and we are trying to find creative ways to encourage him to read. It seemed like the perfect mixture of the two."
There are many stressful aspects of learning to read. Embarrassment and fear of being judged prevent kids from enjoying reading. However, the employees of the Erie Avenue shelter know that sometimes kids just need a good listener.
Katie Turk