By Enya Xiang
Honest Tom's Taco Shop is a neighborhood favorite. College students to local residents enjoy coming to pick up their preferred items, including tacos and burritos stuffed with chicken, beef, and pork. However, owner Tom McCusker and his staff have been experimenting with vegan options for months and starting July 10, the restaurant's name will be changed to Honest Tom's Plant-Based Taco Shop, opening with a fully plant-based menu.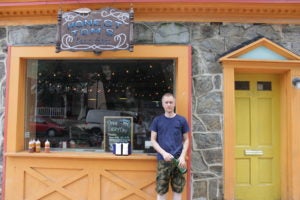 This is not the only change that Honest Tom's has had. Before switching to a storefront establishment in 2012, McCusker ran a popular breakfast food truck that circled around University of Pennsylvania campus. At its present location, people often drop by for a taco or burrito because the restaurant is one of the only cheap places that serve quick food in West Philadelphia. Online and in-person reviews rave about the restaurant's food, especially their breakfast burritos. More than a year ago, McCusker grew tired of eating unhealthy and processed foods and decided to eat vegan for a few days. This diet turned to 30 days, then 90 days, and then a whole year. Coming to the realization he was committed to veganism and his chef also did not eat meat or cheese, he decided to extend this diet to his whole restaurant. "I figured I'll just go all the way," says McCusker, "I didn't need meat anymore," and encouraging customers to eat vegan would be "better for everyone involved."
Regarding this switch, some customers are optimistic and eager for the reopening. First-time customer Warren Johns enjoyed his food that contained meat but will come back to try the new plant-based menu. "I can see myself coming back again," he said, "I don't care if it's a sweet potato burrito or taco."
Sarah Lee, a patron who used to be vegetarian, is excited to taste the new meat substitutes. She is glad for more vegan and vegetarian options and says, "I'm sure meat lovers will be able to find another shop that provides that sort of meal for them."
But many customers are unhappy with the change and are not sure about returning. Michael Keyack, a long-time patron, loves the "the variety of avocado, beans, cheese, and meats: the perfect concoction for success." Michael was convinced by friends to try the original food truck ten years ago and "fell in love."
He is now dismayed that there will no longer be meat options. "This country is founded on the basis of having freedoms and rights," he said, "My right—and the customers' right—is being taken away."
Mason Garnett, a patron for years, said the restaurant is "gonna lose all their customers" and the change to vegan food will "chase them all away." When asked why he was opposed to veganism, he said, "You need something to make you run."
McCusker is convinced his restaurant will be successful. The menu change is a business risk, but he is confident the taste of his food will trump everything else. "A lot of people will stick around when they try it," he says, "Unfortunately, some people will leave, but new people will come." Honest Tom's is still one of the only casual, cheap restaurants in the neighborhood, and a new flood of vegans and vegetarians may come around since West Philadelphia has a large population with plant-based diets. 
McCusker does feel that a vegan fast-food place is lacking in the neighborhood and hopes that change will bring the West Philadelphia community together. For now, Tom and his staff need to repaint and reorganize, preparing for the reopening on July 10.