An e-cigarette, short for an electronic cigarette, is a handheld electronic device that simulates the feeling of tobacco smoke. The original purpose of an e-cigarette was to help longtime smokers quit smoking traditional cigarettes. Many traditional cigarette smokers believe vaping can help them quit tobacco. Dr. Bettigole, the director of chronic disease prevention for the Philadelphia Department of Public Health, says, "we have seven scientifically proven ways for people to stop smoking, and then there's vaping, which has not been scientifically proven."
As traditional cigarettes began to lose popularity, tobacco companies started investing in the creation and production of e-cigarettes. There are now hundreds of e-cigarette brands across the country whose products are easily bought at convenience and online stores, such as eBay or Amazon. "A lot of them have nicotine, even the ones that say 'no nicotine', have nicotine," according to Dr. Bettigole, and teenage non-smokers are getting their hands on these devices.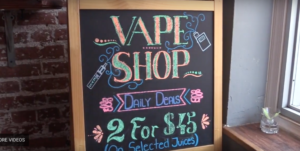 Many teenagers believe that e-cigarettes without nicotine have lower health risks than e-cigarettes with nicotine. However, as E-cigarette companies have misled their customers with false labels, nicotine, which is dangerous in any way it enters the body, has lead to teenagers, who use vape products labeled "no nicotine", to unknowingly getting hooked. The U.S. Food and Drug Administration states that 75 percent of e-cigarettes, including those that claim "no nicotine", contain dactyl and acetyl propionyl, two chemicals associated with respiratory diseases.
Companies falsely claiming their e-cigarettes do not contain nicotine is dangerous. Many customers and young people may choose differently if they knew an e-cigarette was not actually nicotine free. Teenagers and other e-cig users, who may believe they are not consuming nicotine, could be vaping their way into a future of lung, heart, and brain problems.