Philadelphia, the birth of America's independence and sixth most populated city in the United States and yet still people find themselves deserted. Amidst the chosen streets lined with organic food shops, vegan vendors and boujee restaurants, many residents are nutritionally at a disadvantage.
The wealth disparity throughout Philly directly correlates to what individuals eat. In center city and closer to college campuses, health stores with fresh produce are in clusters and easily accessible, if you have the money and transportation. This is drastically different in communities with an overall lower income. For some, the closest grocery store can be a mile or more away and the fresh produce can be far above the price range. Those in lower income communities may not have the accessibility that would be expected in a prominent growing city. For those not able-bodied, or without a car, it can be extremely difficult just getting to the food store, let alone affording fresh produce.
Food deserts, or areas that lack access to affordable fruits, vegetables, whole grains, low-fat milk, and other foods that make up a full and healthy diet are common throughout this city. In communities of Philadelphia with less wealth, it is far more common to not have a grocery store within walking distance than one would expect. At a disproportionate rate these communities are home to high populations of minority groups who have been systematically oppressed for generations. Including those handicapped, African Americans, immigrants and Hispanic communities. Both poverty levels and race have to be taken into account when looking at the locations of food deserts.
But many individuals in Philadelphia have fought to change this through community gardens. The North Philly Peace Park in the Sharswood neighborhood is run by residents of the community and they offer a fence-free garden filled with flourishing beds of fruits, vegetables, and an overgrowth of community love and high hopes to enlighten those open to new thoughts.
The location of the Peace Park is in a food desert, the closest stores to many residents and the garden itself are corner stores or fast food joints. Here, anyone is allowed to visit whenever desired and explore the atmosphere as long as they adhere to the park's Community Constitution. The large board that stands at the entrance of the garden outlines these overall rules. The common theme throughout is respect, trust and growth.
Community events are held almost weekly and volunteer opportunities are practically endless. Every Saturday the park hosts "Self-Care Saturday" with various activities including yoga, live music, meditation, discussions on health and herbal tea making. These events are all offered free of charge, in a lively environment with friendly smiles, discussions and experiences. The park aims to nurture not only physical health concerns through education and nutrition, but mental and spiritual needs.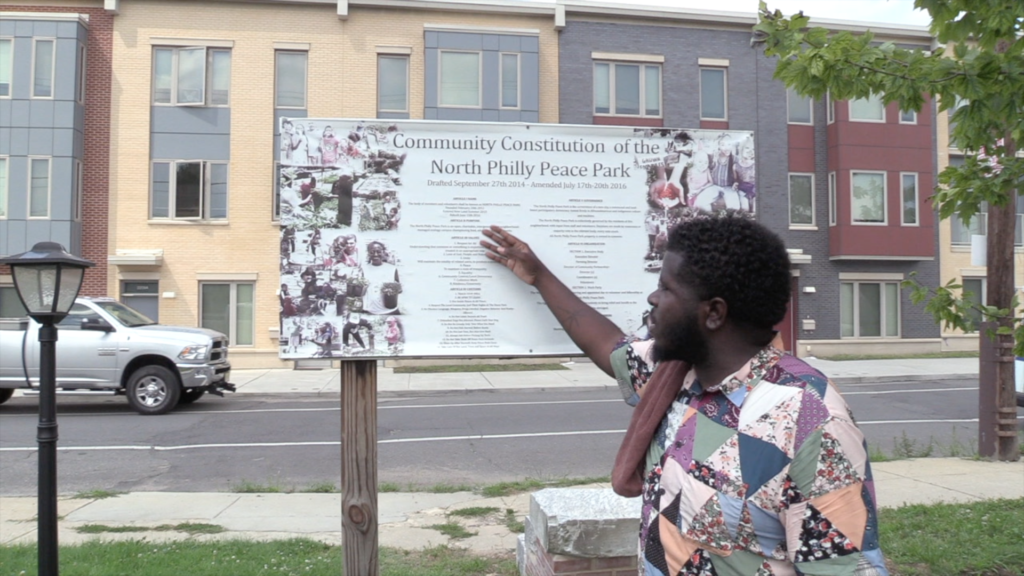 Pili X, the director of community partnerships and one of the park's educators and farmers, explained the importance of this garden for the growth, trust and the health of the community. He believes there is great importance in not just giving out fresh produce, but rather teaching the community "to actually know how to grow the food" so that they can carry these skills to family, friends and the community at large. All of the Peace Park's staff has the willingness to "teach the skills, not just give the services and deliver the food, but to teach people how to do it for themselves." says Pili.
Pili has seen firsthand the impact of the park. He noticed that teens that would usually come to the garden with chips and a soda, or a meal from the nearest fast food store, were now coming to eat. Pili tells how they "harvest vegetables together, cut them up, clean them and they'll [local teenagers] munch on those".
Community gardens are not uncommon throughout Philly, in fact many are sprouting due to the excessive amounts of vacant lots. One of the major differences of the Peace Park is that it is fence free. Pili speaks for the founders of the park in saying they believe that having fences "when we are living in a food desert, when there is a great need for food, a great need for healthy options, would be a disservice to the community". Therefore since day one they have kept the park fence free so accessibility is there for those living in the community and those outside of the community to enter.
The Peace Park is available to all, and they highlight the cultures of the city through noted African American techniques of gardening, architecture and events. No payment is necessary for the produce, only that you respect the area and each other.
Peace Park's greatest message is in fact "peace" and amidst this growing city, nation and world, more of this is definitely needed.
To find out more about North Philly Peace Park visit their website or their Facebook for daily updates of events.